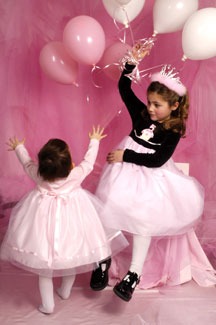 Buy a
First Birthday Dress
directly from
Sophias Style Boutique
Nothing is more exciting than celebrating a baby's first birthday, and the celebration even gets more exciting with a personalized birthday dress if the child is a birthday girl.
One of the places to find personalized birthday dresses of all kinds is to shop for them online. One of the places that parents and other family members can do so is by browsing through the different styles of
birthday dresses
available at
SophiasStyle.com
. Also available are a variety of
birthday hat
styles.
When you shop online at a store such as
SophiasStyle.com
it is helpful if you know what size dress to buy your baby. Fortunately, Sophia's Style Boutique includes the exact measurements of each dress our outfit they carry (and easy instructions on how to measure your child), making it simple to find the correct size for your little girl. The rule of thumb is usually to purchase an outfit that is 1-2 inches larger around the chest and waist of your little girl. Remember, most birthday dresses have a sash that ties in the back, so it is better to choose a size that is slightly larger, then just tighten the sash. SophiasStyle.com also accepts returns, so you can send your item back if you find the dress or outfit does not fit, as long as the item is unworn and the tags are still attached!
Some of the personalized birthday dresses available at
SohiasStyle.com
are appropriate for those children who are between 12 and 24 months of age. These are usually marked by the size indicated as 12-24 mos, or 12-24M. Some outfits are marked as 2T as well, which is approximately the same size as an outfit marked 24M. However, the 2T's often run slightly bigger.
If your birthday girl is small for her age you may be able to get away with a size marked 12M. A first birthday dress may be worn only one time in some cases anyway, so it may not be so important that you find a size that is bigger than that. However, if a parent wants to personalize a dress with the birthday girl's name and not the girl's age the birthday dress may possibly fit her the second year as well.
Those who shop for a
personalized birthday dress
can do so on the
SophiasStyle.com
site in a variety of ways. For example, there is a drop-down menu that is located on the home page. This lists all the links to the appropriate pages which display brands of girl's clothing. Customers can also shop according to the size of the child as well, as mentioned in previous paragraphs of this article.
Other
birthday outfits
that are for sale at
Sophia's Style Boutique
include chiffon pant outfits and jumpers. All of these are purchased new by the customer. These outfits come in many styles and sizes, and they can be ordered and purchased online and shipped in time for any occasion.