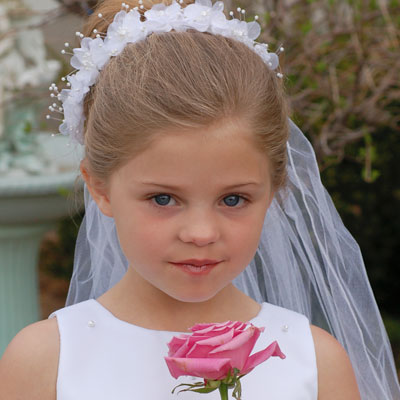 Buy
First Communion Dresses
direct from
Sophia's Style Boutique
What is a first holy communion? A First Communion is one of the holiest and most important occasions in a Roman Catholic's life. It means that person has received the Sacrament of the Eucharist, the body and blood of Jesus Christ. Most children receive their Catholic First Communion at the age of reason, when they're seven or eight years of age.
One must be absolved of their sins and in a state of grace to receive communion. Generally, children make their first confession before communion, in which the priest gives the child a penance. Usually the penance consists of several prayers which must be said following the session.
To receive first communion, the Catholic child must have also been baptized. After baptism, children begin to prepare for their first communion in 1st grade, often through Catechism classes, if they do not attend a Catholic school. After about 2 years of classes, the child can then receive their first communion.
This is one one the most important days in her life, which will be remembered forever. This milestone signifies that a Catholic child is ready to embrace many of the adult responsibilities of Catholicism. For instance, around this age, children begin to understand the difference between right and wrong. Catholic children are expected to try to follow the 10 Commandants, and ask for forgiveness through Confession when they sin. Along with this added responsibility comes the blessing of receiving first communion, the body and blood of Christ, at mass!
A 1st Communion is a day which will always be cherished. Traditionally, this milestone is celebrated with a party after the ceremony. For great
first communion party
ideas visit
Chiff.com
. For exquisite
1st Communion dresses
at affordable prices, visit
SophiasStyle.com
. Sophia's Style Boutique
girls clothing
store offers heirloom girls first communion dresses, 1st communion veils and gloves at discount prices. All flower girl dresses and 1st communion dresses are in stock and ready to ship! The exact measurements of each dress are included in the description of each 1st Communion dress to ensure the proper fit for your princess on this very special day. Exchanges and returns are accepted. Visit SophiasStyle.com or call toll free at 1-866-423-2231.