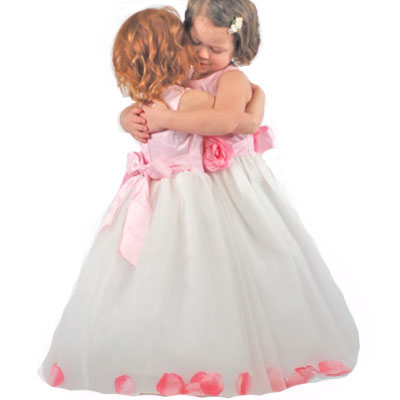 Buy
Flower Girl Dresses
Direct from
SophiasStyle.com
This will be one of the most important days of your life, and it is important to make sure that not only do you look your best, but that your wedding party looks and feels great, ensuring a fun day to be remembered for a lifetime. If you are including a flower girl in your wedding party, then it is of utmost importance to ensure that she has a dress that is beautiful, fits properly, comfortable to wear, and won't break the bank for the parents of the little girl (as the guardians of the flower girl are traditionally responsible for the cost of her flowergirl dress, shoes and tights).
When children are involved in weddings, you will find that quite a few of the wedding photos will either feature the kids (especially the flower girl) or at least involve them. Partly due to the fact that children tend to be where the action is and love getting their own pictures taken, flower girls show up in most wedding albums as the 'little princess of the day.' Photographers are also inclined to take pictures of children, as they add an element of pure innocence to a wedding celebration!
So, to ensure the flower girls are fancily clad in adorable dresses, you may want to start your search for their formal wear online. The advantage to shopping online for a flower girl dress is that the prices are often much lower than you would find in a brick and mortar store and the exact measurements are generally included in the descriptions. Additionally, many of the online flower girl boutiques feature pictures of girls in the flower girl dresses, so you can actually see what the dress will look like on, without dragging a small child to several stores. Flower girl dresses are also generally very forgiving when it comes to size, as most include sashes that tie around the waist, making the formal dress somewhat adjustable to a growing little baby, infant, toddler or little girl. Therefore, it is suggested that a dress is selected which is slightly larger than the actual measurements of the girl. Most online retailers also allow for returns, as long as the item is returned with the tags still attached and the dress is in its original condition!
With a bit of planning, you can make finding a beautiful flower girl dress an enjoyable part of your wedding journey:
First prepare! Get the exact measurements of the girl, including her chest size, waist size, length from her shoulder to knees, as well as the length from her shoulder to ankles. Please click here for a chart on how to measure a little girl.
Start your search! If shopping online, use a reputable flower girl dress retailer, such as Sophia's Style Boutique, which specializes in flower girl dresses and girls clothing. Compare the dress measurements to those of the little girl, and select the perfect dress.
Be sure to add tights, shoes, flower girl accessories and a slip or petticoat to simplify the process (and save money in the long run!).
Always feel free to email or call the store you are purchasing from with any questions you may have. If you do not get a response, you may want to reconsider where you shop!
Finally, purchase the dress. Generally, items should be shipped within 1-2 business days unless otherwise noted. Be sure to have the child try on the dress as soon as possible to ensure proper fit!
Have fun, and enjoy this magical time in your life!