The holiday season is the ideal time for dressing up. After all, there are parties to attend, family to visit, and countless other festivities to enjoy. A fashionable
Christmas dress
is almost as much a part of Christmas as the tree and it is every little girl's desire that her dress outshine all of those wonderful holiday decorations.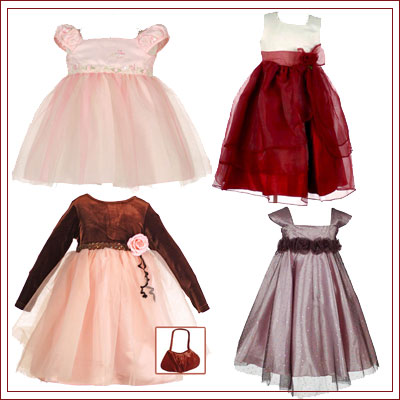 When it comes to buying
baby Christmas dresses
, it's okay to go outside of the traditional darker colors that you normally associate with the holiday season. For example, Rare Editions carries a breathtaking pink dress that pairs a floral embroidered bodice in light pink with a three layered skirt in ivory, gold and pink tulle over gold satin. If you prefer the more traditional look, the Lito dress in burgundy and white is stunning, as is the black velvet and red matte finished dress by Rare Editions.
While babies take the "couldn't care less" attitude about the way their caregivers dress them, the opposite is usually true for older girls. For a Christmas dress that will truly make your little girl look like a princess, we love the Bunny & Dino's pink satin dress with black organza net overlay. For a more traditional look, we also love the burgundy and white dress by S Square and the beautiful brown velvet bodice and gold brushed satin skirt dress by Rare Editions.
For the parent searching for the perfect
plus size Christmas dress
, we found many great options to choose from. Rare Editions make an ivory satin dress with elegant black beading at neckline that comes with a matching black velvet shrug. Rare Editions also makes a beautiful dress with a black velvet top with rose appliqués and red matte satin skirt.
We are definitely finding the parameters for what makes fabulous
Christmas dresses
are widening, and what could be more fun? It's getting easier to find the dress that matches your child's personality, and a confident little girl shines brighter than any holiday light we've ever seen.