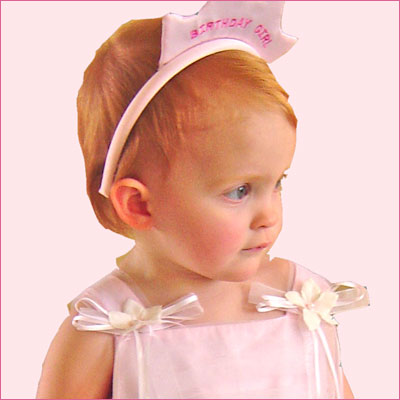 Find more
birthday dresses
at
SophiasStyle.com
When it came time to plan my daughter's fifth birthday party, we had hard time coming up with birthday party ideas. Kera kept changing her mind about the theme. Whatever cartoon was on the time was the party she wanted. How exhausting! I was finally able to persuade my little girl that a princess birthday party was the way to go. The most convincing factor was the adorable
birthday dress
that would make her look just like a princess. We had a theme!
Next we sent out official invitations from the king requesting the presence of my daughter's friends at the royal palace. We rolled parchments of paper into little scrolls and tied them with ribbon. The invitations requested that each girl wear their dressiest
birthday outfits
. Later the moms told me how much fun the others girls had getting all dressed up.
We decorated our "castle" with streamers and balloons in pink, purple and gold (yellow). We greeted each guest with plastic tiaras and feather boas to make them feel like royalty. After that they enjoyed tiny sandwiches and punch at the royal tea. Then they had a blast decorating princess cookies and then devouring them.
After the girls ate, they had fun playing party games like hot potato using Snow White's poisonous apple, pin the glass slipper on Cinderella, and royal ball freeze dance. We sent each girl home with goodie bags full of plastic jewelry and other treats so that they could continue being princesses after they went back to their castles.
My husband and I both surprised ourselves with how much we were able to get into this birthday party for Kera. The theme was broad enough to allow us to get really creative and put out own twist on things. Best of all, Kera and the other girls really had a good time with all of it. Everything was a hit! Thanks to
SophiasStyle
and
'A Party for your Little Princess'
for all of the great ideas!