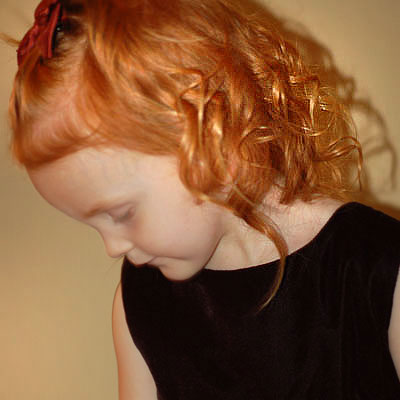 Check out whats in for little
girls holiday dresses
and hair styles this season!
Half Up and Half Down - A play full look that will leave her looking as pretty as she feels. Simply curl hair with a 1" curling iron all over. Separate hair into two sections. Leaving the bottom section alone, tie top section back. Use either a cute holiday hair bow from SophiasStyle.com or bobby pins.
Long Studded Curls- A cute style that will never go out! Curl hair starting in the nape section first and work your way up to the top of the head. The curls should be done with two different size curling irons. Alternate curls as you work through each section. Once curling is complete, simply run hands through curls to loosen and go.
All That Glitters- Use an accessory that will ensure she will be the Belle of the Ball. You can use either of the two above styles and just add to it by using a rhinestone comb, clip, or tieback.
Add A Headband- Keep her looking like a little princess. Use a head band to instantly dress her up,or create a more polished look.
With stylish elegance and one-of-a-kind designs, our
girls holidays dresses
from SophiasStyle.com are just the right choice for the above hair trends.
SophiaStyle.com
offers a huge selection of
Christmas Dresses
that will truly compliment your little girls style!