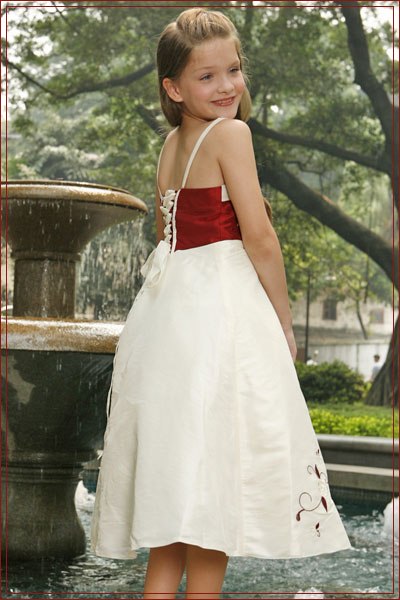 Click here for more
flower girl dresses
and
flower girl accessories
at
SophiasStyle
For most mothers, when their little girl is picked to be someone's flower girl for their wedding, the honor of being chosen is quickly replaced with the terror that their little angel will ruin the whole ceremony. Will she be good, stand still, run around like a banshee while screaming at the top of her lungs? The best thing to calm mom's and the flower girl's nerves is to be prepared. Here are some tips.
You want to make sure and talk with your daughter in advance about what is expected of her. Bring it up on occasion so that she can get used to the idea. It is also beneficial to purchase the flower girl dress in advance to leave time for any alterations. Just a tip: shopping for flower girl dresses at department stores is a nightmare for every mother I have ever talked to. Most mothers find the best
flower girl dress
choices at reputable online vendors such as
SophiasStyle.com
. Make sure that the dress fits the flower girl comfortably before the wedding.
The flower girl should definitely be present for rehearsal so that she can practice her duties. Flower girls usually walk directly in front of the bride in the processional and in front of the maid of honor in the recessional. If your daughter is younger, it may be best to have her come and sit with the family after she walks down the aisle. If she is older she may stand near the bridesmaids during the wedding ceremony.
On the day of the wedding, I recommend making light of the flower girl's responsibilities as a whole. If you continue to harp on what she is supposed to do, she may get nervous and act out. By this time, she knows what is expected. Ask her if she needs any reminders and then let things unfold. Also, no sugar before the wedding!
When the bride chose your daughter to be her flower girl, she knew her age and level of capabilities, so try not to stress if she doesn't do things exactly as you would have her do. Little girls will be little girls, whether they are in flower girl dresses or jeans. So if your little girl freezes or starts running around, grab her hand and lead her quickly to your seat. I can guarantee that you won't have the first, or last, flower girl gone wild! Just prepare the best you can, and everything will work out fine!